Every lady knows that owning a pair of heels is a must. It is true that there are many occasions in our life that require us to look feminine and elegant and in most cases, it is impossible without wearing a pair of heels. The fact is that there are very many types of heels existing these days, but there are ones that are considered to be the most universal – black heels. As you may have already guessed they are going to be the subject of today's survey. What is more, today you will learn that black heels are many, and there is a particular type not for just every occasion but for every person as well!
Black Open Toe Sandals With Block Heel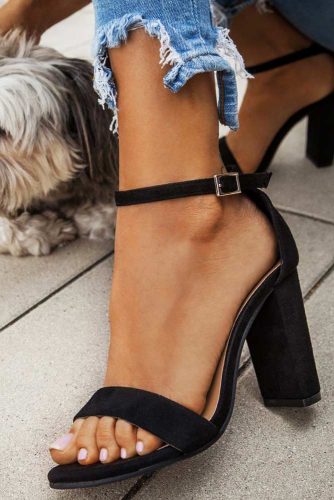 When it comes to choosing sandals to wear, most women opt for something comfortable. Thus, they leave out heels. Yet, heels can be suitable for everyday wear, too.
Black Velvet Sandals With Stiletto Heels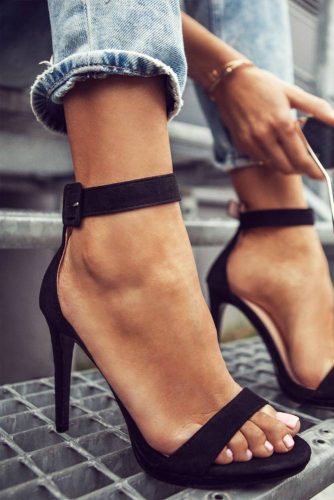 It is true that stiletto heel can be pretty daring to walk on. However, black heels with ankle strap even with a stiletto heel will be easy to wear since the strap fixes the ankle and you won't even notice that you are walking in heels!
Black Velvet Pumps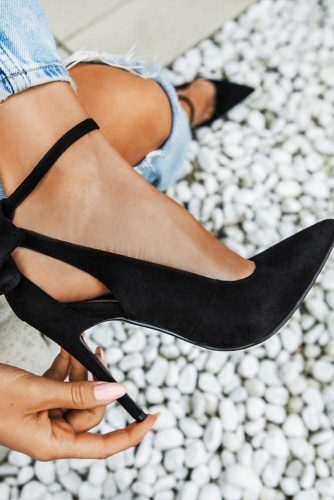 This pair of heels has a decorative ankle strap, but the strap has another function too – it stabilizes your ankle so that your feet feel comfortable.
Open Toe Platforms Heels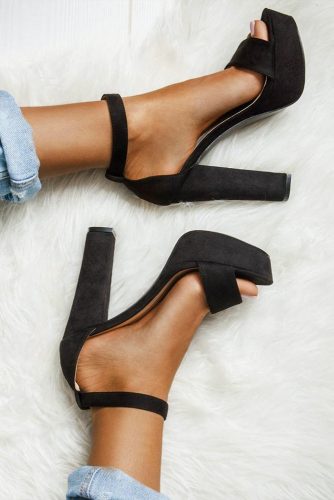 It is not a secret to anyone that wearing platform heels is much more comfortable than wearing stiletto heels. That is why if you are not sure whether you will endure the stiletto heel but still look for something to substitute it – open toe platform heels should be your perfect choice!
Patent Leather Shoes With Silver Heels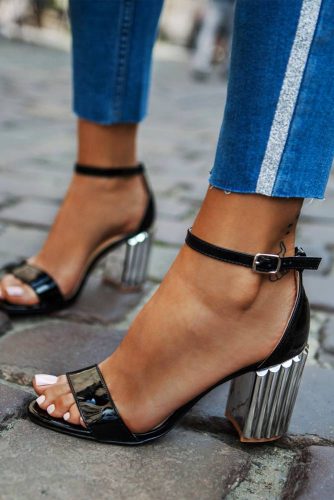 Black High Heels With Fringe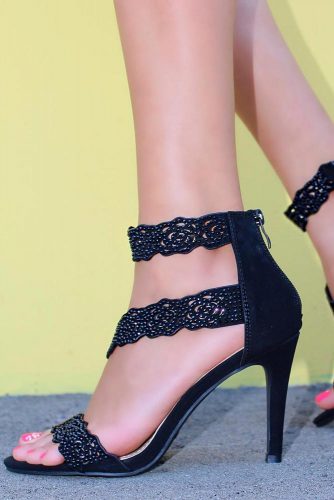 A special occasion requires special footwear. These fringe open toe sandals can fit such an event just perfectly.
Sexy Corset Shoes With Metallic Heels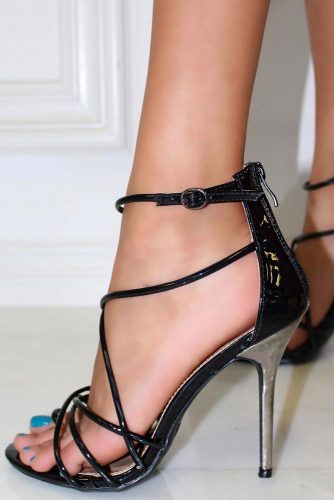 These corset heels may be challenging to wear, but they are surely sexy and noticeable.
Transparent Platform Wedge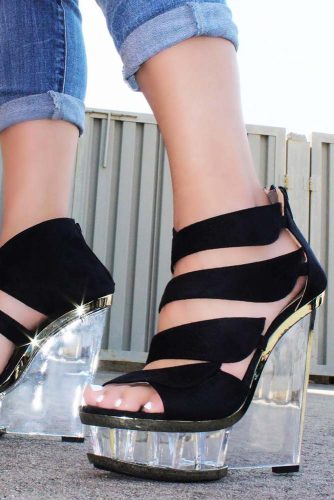 The black velvet top is what brings the class to these heels while the transparent platform is all about the party!
Laced Platform Heels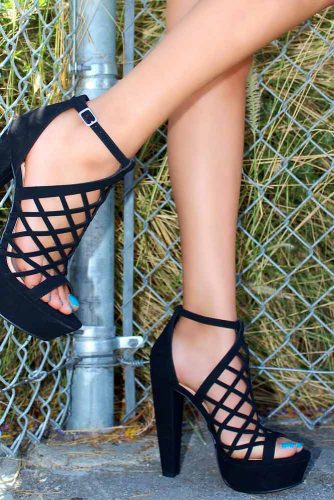 Even super high heels can be super comfortable, and we are not joking about it.
Peep-Toe Ankle Strap Platform With Rhinestones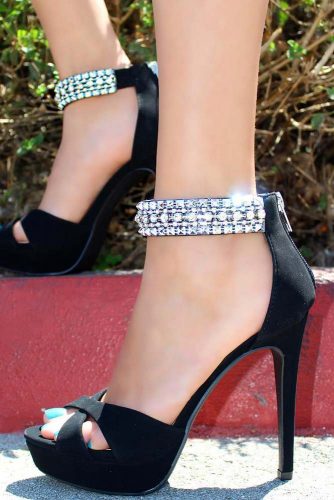 The ankle strap decorated with rhinestones will add up that necessary bling to your look, that is for sure!
T-Strap Sandals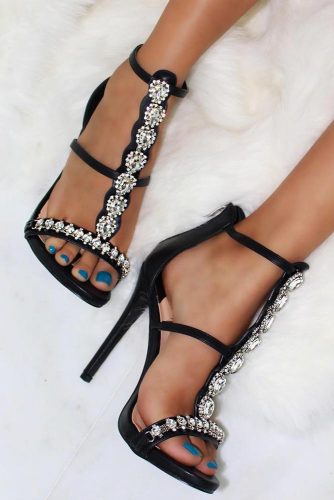 Black heels for women who like to look luxurious are bound to look unique and elegant.
Platforms With Ballerina Straps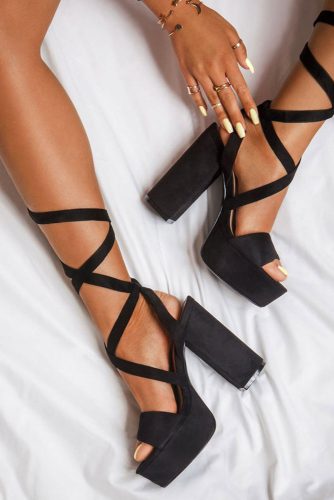 These ballerina straps platform heels look so gorgeous and their simplicity that it is easy to conclude that they are as comfortable as they are beautiful and that would be the absolute truth!
Closed Toe Stiletto Heels With Rhinestones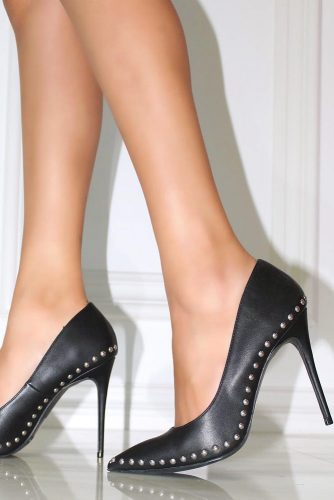 Closed toe stiletto heels are surely the most classic version of black heels there is.
Platform Closed Toe Heels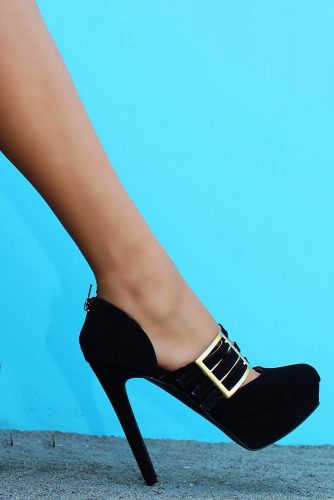 The thing is that despite the heel everything else screams comfort when it comes to these shoes.
Black Closed Toe Heels With Red Soles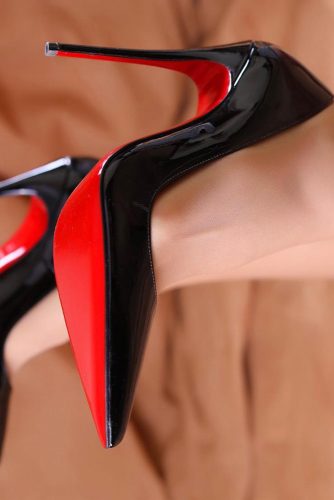 Black heels with red soles are on the edge of popularity these days. Closed toe and stiletto heel are the main attributes that go along with red soles.
Chunky Heels With Studs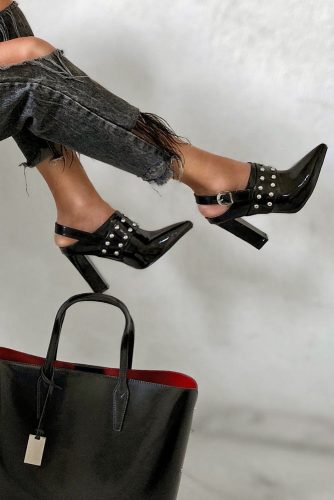 If you are looking for black heels to wear when the weather gets a little colder, then this option may be the best for you.
High Heels Sandals With Pearls
High Stilettos Heels With Ankle Strap
Simple High Heels Sandals
Toe Ring Sandals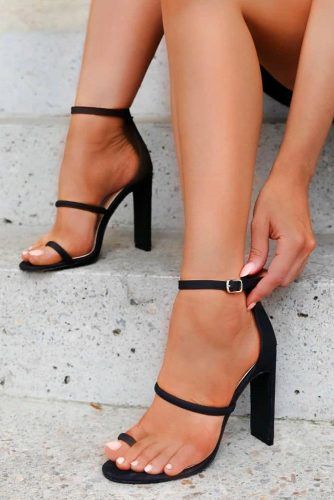 Open Back Heels With Clear Straps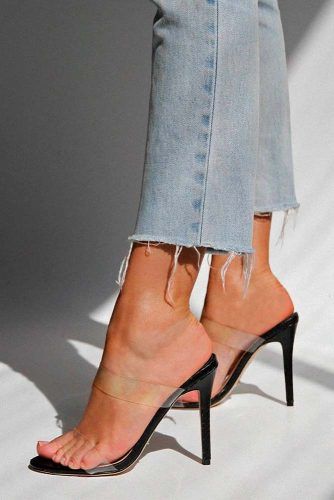 High Heels Sandals with Clear Straps